Our Current Hours of Operation are Mon-Fri 8am-5pm PST. - Online Ordering is now available!
specialy finish
Lime Wash
Due to it's high PH, Lime Wash also acts as a mild fungicide, and is eco-friendly - containing zero VOCs.

This organic and highly breathable finish makes Lime Wash ideal for historic restorations, interior and exterior masonry and drywall applications.

For drywall application, first prime with our Limeproof undercoat. For a wipeable surface, seal with Portola's Matte Wall Sealer. Lime Wash is available in a broad range of stock and custom colors.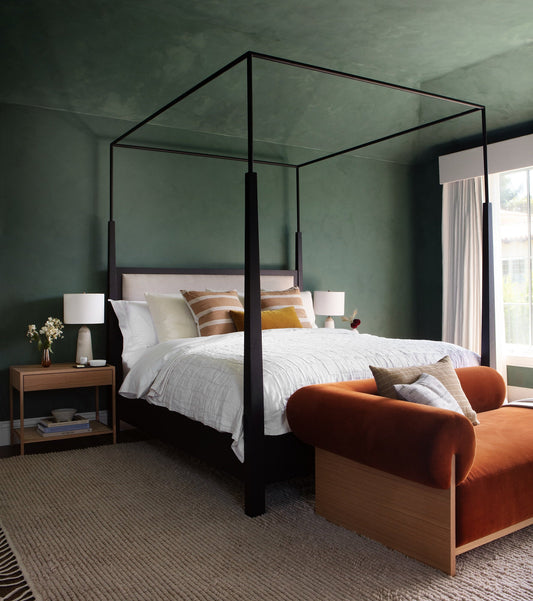 Natural beautiful texture
Lime Wash is specifically formulated paint that allows the lime to gently "bloom" creating soft variation in color which add depth and texture. Ideal for interior or exterior surfaces, Lime Wash can be applied to drywall, plaster, stucco and masonry surfaces.
Portola's Lime Wash is applied in 2 coats with a 5 inch stain brush. It is important to keep a wet edge, working from one corner to the other, cutting in as you go without stopping.
Lime Wash will naturally give you a soft, suede like appearance. The overlapping brush strokes give movement and dimension to the walls. Depending on the color and how it is applied, the results will vary.
Lime Wash will naturally show variation in color. Highlights and lowlights. The Lime in the paint is white, so the lighter the color, the less movement you will see. It is common to apply a 3rd coat diluted with water on light colors to bring out a bit more variation.
The white lime in the paint will bloom to the surface when you apply 2 coats. The darker the color the more movement and variation you will see.
Learn about the differences between Lime Wash & Roman Clay! This informative video will help you choose the perfect finish for your space.
Which one will you choose?